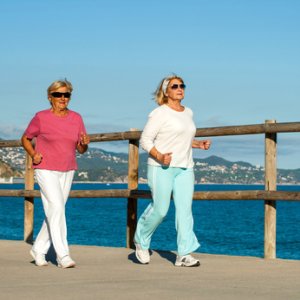 Do you feel tired in the afternoon? Do you fall asleep in front of the TV after work? Do you feel that you lack endurance? You can get back the energy you are missing in a surprisingly easy way.
When you were a kid you could run around for hours at a time and burn off energy like mad without ever feeling tired. That is an ability we lose along the way as we grow older, and in some cases people find that they fall asleep in front of the TV, feel completely drained during the day, or no longer have what it takes to exercise. If that is something you can recognize, here is what you can do to get back on track. What you need is to "refuel" your cells so they can start producing more energy.
Power nutrient
Is that really possible? Yes, it most certainly is. With a natural compound called coenzyme Q10, essentially a nutrient, you can boost your cellular energy production in a completely natural way, thereby increasing your endurance and your physical well-being. Within a week or less, you will feel how your energy levels soar, and you will no longer be bogged down by that unpleasant feeling of lethargy and lack of zest.
The body's own fuel
Coenzyme Q10 is not a stimulant like e.g. ginseng or caffeine. It does not affect the central nervous system. It is a nutrient which we humans need for survival. Our cells cannot produce energy without it and without the ability to make energy we would not survive for many seconds. Here is what science knows about coenzyme Q10, so far:
It is found in certain foods
Our liver can produce it
From the age of 20-25 years our endogenous production decreases
Middle-aged people start to feel an energy decrease because of this age-related drop in coenzyme Q10 levels
Supplementing with coenzyme Q10 is the most natural way you can boost your energy levels
There are no side effects of taking coenzyme Q10 - not even at excessively high intake levels for prolonged periods of time
It adds "power" to sperm cells and boosts male fertility that way
It makes the heart perform substantially better by helping the heart muscle contract with greater force
It lowers blood pressure
It counteracts gum disease
Nobel-prize
Coenzyme Q10 was originally discovered back in 1957 and researchers have been fascinated by the compound ever since and have investigated how it works in the body. In fact, a British scientist named Peter Mitchell was awarded the Nobel Prize in biochemistry in 1978 for his scientific work with coenzyme Q10, and the American professor, Karl Folkers, got the Priestly Medal (the US equivalent to the Nobel Prize) in the 1986 for his work with the nutrient. In fact, Folkers was one of the first to investigate the possibility of treating heart failure patients with high doses of coenzyme Q10.